Traveling? Our coverage goes with you!
As a member of our health maintenance organization (HMO) plans, there's no need to worry if you get sick or injured while on vacation. With the security of BlueCross BlueShield behind you, you have access to health care providers across the U.S. and around the world. In fact, more than 85 percent of all physicians and hospitals contract with a BlueCross BlueShield Plan to provide round-the-clock protection wherever you are.
Additionally, our members with prescription drug coverage have access to FLRx, our nationwide network of more than 50,000 participating pharmacies. These pharmacies can fill your prescription and file your claims with us electronically.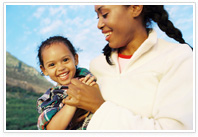 Away From Home Care®
The BlueCard program provides you with coverage for emergency and/or urgent care you receive when traveling outside our local network. Under the BlueCard program, providers are educated to treat all BlueCross BlueShield members, and to bill their local BCBS Plan. You will receive all the health care benefits you would get at home, and still only pay the applicable copayment.
BlueCard Program Features
One phone number to call 1-800-810-BLUE (2583) to find a provider in the area you are visiting. You can also access this information online at provider.bcbs.com.
24-hour referral service
You make your own appointment with a BlueCross BlueShield provider, rather than waiting for someone else to make it.
Faster claim settlement for the services you receive.
Of course, if you have an emergency medical condition, you should go directly to the nearest emergency room. Please be aware that non-emergency services may not always be covered.
Call Member Services at the number shown on your member ID card to verify your coverage and request prior authorization, if required by your contract.
Kids at College? Living in Another City?
For our members with extended out-of-town business or children in college or living in another city, Away From Home Care at an affiliated BlueCross BlueShield HMO may be the right choice for you. Follow this link to learn more about this program.