Understanding High Deductible Health Plans
What is consumer driven health care?
It's an approach to health care that puts you and your employees in charge. By pairing comprehensive, low-premium plans with tax-advantaged funding accounts, consumer driven health plans offer your business several benefits: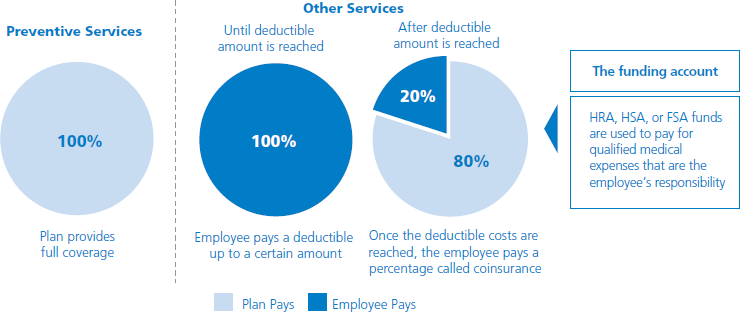 How does it work?
Health plan coverage
Preventive services are covered in full, while other services require employees to pay a deductible and coinsurance.
Employee responsibility Employees are responsible for paying a deductible up to a certain amount, as well as a percentage of cost, called coinsurance – but are protected by an out-of-pocket maximum.
Funding account The employee funding account, which may be funded by the employee (with tax-free dollars), employer, or both, helps reduce out-of-pocket expenses for the employee.
Greater control Employees have more control over how their account dollars are spent – with a wide range of qualified medical expenses.
Key Components
With a HDHP, preventive services are covered in full. For other services, you pay a deductible up to a certain amount, depending on the plan chosen by your employer. After you reach the deductible, you pay a percentage of cost but are protected by an out-of-pocket maximum.
All of our high deductible health plan options offer:
Preventive services that are covered in full
Access to more doctors, specialists and hospitals
Ability to pay your out-of-pocket expenses any way you choose – ask your employer about your funding options

Open a PDF

Exclusive discounts on health and wellness programs with Blue365
Plus, our HealthyBlue members get up to $1,000* cash back for doing healthy things
*$500 individually, or a combined $1,000 cash back for you and an eligible adult member
Health Savings Account (HSA)
A tax-free, employee owned account that combines with a high deductible health plan to help employees save on qualified medical expenses. Learn more: How to Use Your HSA with a High Deductible Health PlanOpen a PDF
Health Reimbursement Account (HRA)
A tax-free medical reimbursement plan funded by the employer, qualified medical expenses by the end of each year.
Flexible Spending Account (FSA)
A tax-free spending account used for qualified medical expenses, which must be used.
Plan Options
More plan for less – take a look at our plan options
You can choose from a variety of products that offer:
Great coverage with no referrals
Incentives for employees to live healthier
Improved employee productivity
Our new auto enroll HSA option
HealthyBlue® - a comprehensive health plan featuring HealthyRewards® - a wellness incentive program that pays employees to live healthier - up to $1,000 cash back per family*. Learn more about HealthyBlue.
SimplyBlue™- With SimplyBlue™ you can give your employees an affordable health insurance option that provides them with great coverage. Learn more about SimplyBlue.
Qualified HDHPs now have an auto enroll HSA - making using these plans even easier. We automatically enroll all participants into a Health Savings Account (HSA) – at no additional cost. So your employees can enjoy all the benefits of this tax-free account, without the usual hassles of setting one up.
Ask about our new Auto Enroll HSA Plan
This new plan option makes it easy to enroll your members in a high deductible health plan and health savings account. Your employees will enjoy the benefits of the tax-free savings account without the hassle of setting up the account.
Employee Communications Plan
Communication is the key to engaging employees in consumer driven health plans. Here you will find communication tools to help members:
Understand how a consumer driven health plan works
Enroll in a consumer driven health plan
Use their funding account
Live healthier and save money
Downloadable Tools: